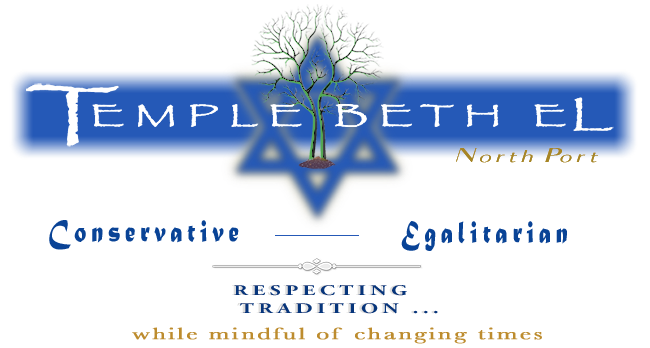 Welcome to Temple Beth El … situated in the outskirts of North Port, in beautiful SW Florida.
Respecting tradition
… while mindful
of changing times
Welcome
Our relatively small congregation always welcomes new members and visitors – men women and children of all ages.
Conservative
"Judaism as practiced with adherence to the Torah and Talmud but with allowance for some departures in keeping with differing times and circumstances".
Egalitarian
"Egalitarianism is a philosophical thought system that emphasizes equality and equal treatment across gender, religion, economic status and political beliefs".
Justice, Justice shall you pursue.
20:16 דברים
 Due to the ongoing COVID-19 situation
TEMPLE BETH EL WILL REMAIN CLOSED FOR NOW.
We will reopen when we feel it is safe to do so.
Watch this space for further information.

Stay safe:  Stay home; six feet away from the next person when you must be in a group;  wash your hands early and often for at least 20 seconds
SHABBAT EKEV

Saturday, July 31, 2021 Av 22, 5781

For a d'rash on today's portions see our d'varim page
---
We are all concerned about the spread of the COVID – 19 virus. The most important thing we need to remember is that we want to keep
all of us, our families and everyone else safe from contamination. The symptoms that the CDC considers are a cough, a sore throat or a fever. Watch out for all of these things.
Until the time that we are able to reopen for in-person services, we suggest that all of you who wish to do so participate in services by live stream. Here are several alternatives for you:
Beth Israel Congregation, Owings Mills, MD: 
 Saturday services are at 9:00 am
Congregation Beth Shalom, Northbrook, IL: bethshalomnb.org, Saturday services are at 10:30 am
There is an opinion by members of the Rabbinical Assembly (not necessarily accepted by all) that in a situation like the current one it is permissible to consider that you are present at a minyan where at least 10 people can hear and see each other (such as by Zoom) no matter where you are physically.
Adath Israel, Merion Station, PA: https://www.adathisrael.org/livestream
Saturday services are at 9:00 am but may not be happening during the summer.
Here is a Kaddish prayer you can recite at home without a minyan being present:
רִ ּונֹו ׁשֶ ל עֹולָ ם, אֱ ֹלהֵ י הָ רּוחֹות ל כׇ ל־ָּבׂשָ ר 
Ribbono shel olam, elohei ha-ruh|.|ot l'khol basar — 
Master of the world, God of the spirit of all flesh, it is revealed and known before You that it is my fervent desire to praise Your name, and to remember and honor my beloved: father/mother/son/daughter/ husband/wife/partner/brother/sister/________ [the name and relation of the person may be inserted] by reciting the Mourner's Kaddish in the company of a minyan. Though circumstances prevent me from doing so, may my yearning and prayers find favor in Your eyes, and be accepted and received before You as if I had prayed that Kaddish. May you grant hope and healing to all who suffer, and may we soon be able to once again safely gather in holiness and joy. May Your name, Adonai, be elevated and sanctified everywhere on earth and may peace reign everywhere. ֹ 
עׂשֶ ה ׁשָ לֹום ּב ִ מְ רֹומָ יו הּוא יַ עֲ ׂשֶ ה ׁשָ לֹום עָ לֵ ֽינּו ו עַ ל ּכׇ ל־יִ ׂש ְ רָ אֵ ל ]ו עַ ל ּכׇ ל־ 
bimromav shalom Oseh 
יֹוׁש  בֵ י תֵ בֵ ל[, ו אִ מְ רּו אָ מֵ ן. 
hu ya·aseh shalom aleinu v'al kol yisrael [v'al kol yosh'vei teiveil], v'imru amen.
Our full Calendar is available here:
12711 Tamiami Trail S.
North Port, Florida, 34287