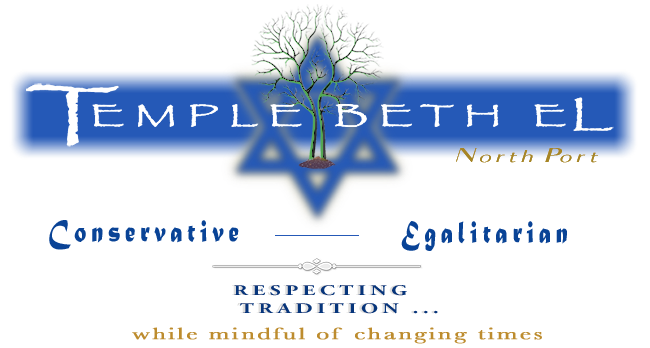 Welcome to Temple Beth El … situated in the outskirts of North Port, in beautiful SW Florida.
Respecting tradition
… while mindful
of changing times
Welcome
Our relatively small congregation always welcomes new members and visitors – men women and children of all ages.
Conservative
"Judaism as practiced with adherence to the Torah and Talmud but with allowance for some departures in keeping with differing times and circumstances".
Egalitarian
"Egalitarianism is a philosophical thought system that emphasizes equality and equal treatment across gender, religion, economic status and political beliefs".
High Holiday Services
שנה טובה ומתוקה
Rabbi Hannah Laner will officiate at our High Holiday services.
Services are open to all at no charge.
Rosh Hashonah Day 1: September 21  9:30 am
Rosh Hashonah Day 2: September 22  9:30 am
Kol Nidre:     September 29  6:30 pm
Yom Kippur:  September 30  9:30 am
Shabbat Shuva:   Saturday, September 23, 2017, 9:30 am
Rabbi Hannah Laner returns again this year to lead our congregation in joy-filled, welcoming, engaging and meaningful Rosh HaShanah and Yom Kippur services.
She has served enthusiastically as a spiritual leader, cantorial soloist, and professional Jewish educator in the U.S. and Canada for over twenty-five years. In the 1990s she created and led Children and Family Services, Junior Congregation, and All Ages Participatory Shabbat Services in Boulder, Colorado.
Rabbi Hannah infuses learning with a passionate love of Torah and tradition. She ignites a spark in children and adults alike and is the winner of many awards for innovation and creativity in Jewish education, including the Grinspoon-Steinhardt Award for Excellence in Jewish Education. As an ordained Maggidah (Jewish Storyteller), she enjoys sharing the wisdom of Jewish tradition through stories. She loves officiating life-cycle celebrations and works closely with individuals, couples, and families to co-create personal, meaningful ceremonies that weave Jewish tradition with their own unique self-expression.
Hannah welcomes Jews of all backgrounds, interfaith couples, and enjoys reaching out to non-affiliated Jews.
Our full Calendar is available here:
CALENDAR
We welcome new members and visitors - men, women and children of all ages
Follow Us:
12711 Tamiami Trail S.
North Port, Florida, 34287